Freakling Bros. Trilogy of Terror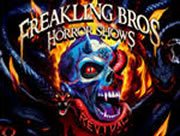 4245 S. Grand Canyon Drive
Las Vegas, NV
Details
Average Review

Scare Factor

Very Scary

Appropriate For

Gates of Hell is a Rated R Attraction - No one under the age of 17 admitted. | Coven of 13 & Castle Vampyre - No one under the age of 12 admitted.

Organization Type

Commercial / For Profit

Listing Categories

More Info

Snacks & Refreshments, Outdoor Event(s), Touching Not Allowed, Free Parking
Established in 1976, Freakling Bros., has been and continues to remain a leader in the haunted attraction industry, with a reputation as "one of the best in the business" for over 30 years by concentrating on primal fears, relying on the power of live performers, and employing the art of theatrical illusion.
We are home of the FIRST and ONLY R-Rated Haunted attraction in the state of Nevada, The GATES of HELL: an experiment in serious, uncompromising, interactive horror. Ranked #1 in the Western U.S. by Scarezone.com, Freakling Bros. proves to be a trend setter in the haunt industry.
Freakling Bros. presents The COVEN of 13 – an ALL NEW HORROR SHOW that pushes the boundaries of complete and total immersion while offering a unique, company-trademark take on one of Halloween's oldest and most classic themes: Witches, Warlocks, and Black Magic.
Email Haunt Owner
All photos and videos within this listing are the property of Freakling Bros. Trilogy of Terror
Email Verified

Solid, with variety

JT and his crew run a solid ship here. Each of the three houses is vastly different in tone and style. Castle Vampyre (my personal favorite) is an old school haunt. Coven is more interactive. Gates of Hell pushes its guests over the edge. They're each equally long enough to be worth the wait (if you don't fast pass), and the attention to detail is impressive.

| | |
| --- | --- |
| Scare Factor: | |
| Fun Factor: | |
| Haunt Value: | |

Posted October 2018

Email Verified

Always a good time! Trust me I am a local...

I have been going to these haunts by Freakling for YEARS and some are scarier than others but I always have a good time. Sometimes there is some live "entertainment" from the haunt actors in the lot outside and I think the props and sets are very well put together . Other than Fright Dome (RIP) it's the only ones worth the money and the actors actually seem to know what they're doing to get a good scare! Atmosphere is like a rock concert! I don't care much for full contact haunts but all around an enjoyable time...and they did actually get me surprised a few times! I loved the clown one and the Vampire one!! Been to a few of them over the years

| | |
| --- | --- |
| Scare Factor: | |
| Fun Factor: | |
| Haunt Value: | |

Posted September 2018

3 out of 6 found this review helpful

Email Verified

Fantastic

Great time with my family at Freakling Bros. Queue wasn't very long and inside house is well packed with terrors and scares. All actors did a fantastic job in scaring all of us. We all got spooked. They really stepped up their game this year and it is awesome to have something like this in the north orthodox that is actually scary and decently priced. I'm glad to visit this place and looking forward for the same bang next year.

| | |
| --- | --- |
| Scare Factor: | |
| Fun Factor: | |
| Haunt Value: | |

Posted November 2017

2 out of 4 found this review helpful

Marvelous

We visited this place on weekend in a group of six and we bought the freak pass for $39 to access all three attractions. At the very outset, the queue was long and we missed the fast pass tickets, so the wait was pretty long but thanks to entertainers for warding off the boredom of us while standing in the queue. All three attractions are marvelous in design and theme, but Gates of hell was the scariest and dangerous. Amazing display of horror, I would say a kind of real interactive one and all actors did a fantastic job in scaring us. Application of special effects and lightning was superb. We will definitely come back next year to witness this master class.

| | |
| --- | --- |
| Scare Factor: | |
| Fun Factor: | |
| Haunt Value: | |

Posted November 2017

2 out of 2 found this review helpful

Entertainment N Horror

Never been to an attraction similar to Trilogy of terror. Very true to its name, as it in-houses three attractions and all were damn scary. We went in a group of three and got the general admission tickets and it's not a prudent decision. Spent around two hours in the queue to get into the houses, but wait was worth. All actors draped in costumes of monsters were creepy and did a fabulous job in scaring us. I personally liked, an old woman draped in white costume and creepy face pack, it was the deadliest one to go through. We screamed, banged, yelled, shouted, jumped and laughed. It was full on entertainment and horror. Definitely worth spending $ and time!!

| | |
| --- | --- |
| Scare Factor: | |
| Fun Factor: | |
| Haunt Value: | |

Posted November 2017

3 out of 3 found this review helpful

Amazing Haunt

Amazing haunt!!! Me and some of my friends went on Halloween. I'm highly impressed by this haunt. One of the best I've ever visited. Well-crafted set, inveterate actors and full of special effects. Actor did well in making us scream and jump so many times. Just check out this place, you won't be disappointed. I recommend all ages to try this haunted house out!

| | |
| --- | --- |
| Scare Factor: | |
| Fun Factor: | |
| Haunt Value: | |

Posted November 2017

2 out of 2 found this review helpful

Email Verified

Frightening Experience

We visited the Trilogy of Terror and could attend all the 3 haunts. The Vampire walk through was a lot of fun. The effects make us jump in scare. The Gates of Hell was very interesting. The actors gave us real shocks of scare every minute we spent in it. The witch walking in there was very spooky and scary. Overall, it was a very frightening experience and we enjoyed every bit of it.

| | |
| --- | --- |
| Scare Factor: | |
| Fun Factor: | |
| Haunt Value: | |

Posted November 2017

2 out of 2 found this review helpful

Email Verified

Scariest House

This is the best and scariest haunted house I ever seen in my life. They change it every year and it keeps getting bigger. The attention to detail is amazing, just wish I had had more time to examine the detail but I was too scared to even stop for a little while. You never know when something or someone was going to pop up somewhere. I didn't want it to end. These guys must be movie set designers with all the details put in. Worth spending money and time.

| | |
| --- | --- |
| Scare Factor: | |
| Fun Factor: | |
| Haunt Value: | |

Posted November 2017

2 out of 2 found this review helpful

Haunting Haunting Haunting

After visiting this place will you get to know the actual hauntedness planted here. The Trilogy of Terror is way too amazing. The House, actors or the staff all are so well set up and friendly and scare you to death. I would personally want to thank the staff for the awesome treatment. I would recommend this haunt to each and everyone.

| | |
| --- | --- |
| Scare Factor: | |
| Fun Factor: | |
| Haunt Value: | |

Posted October 2017

1 out of 1 found this review helpful

Best Freaking Experience

The best haunted place I have ever been to in town!! It just costs us $39 for all 3 themed houses. Starting with the Coven of 13 which is very scary and it has a path you must crawl through and also they drip a liquid substance all over you in which your hair and clothes get soaked. But we can skip this section, so we decided to skip it as we were not prepared for it. Then you get to see a crazy old woman flying down the hallway of Coven to attack you. The best freaking experience! I feel this is the best haunted houses I Have ever been to. The actors and staff all rock.

| | |
| --- | --- |
| Scare Factor: | |
| Fun Factor: | |
| Haunt Value: | |

Posted October 2017

1 out of 1 found this review helpful

Email Verified

Superb Haunting

Superb haunted place. All the attractions are uniquely designed and excellently constructed. I along with girlfriend visited this master class and we had a blast! Very unconventional haunted house and all acts performed by actors were unique and tons of torment was available at every corner of the room. All three attractions were damn scary, but we liked the GATES OF HELL as it's truly portrays the characters playing the role of hell. Amazing special effects and affordable ticket pricing. Loved to be there again. Highly recommended!!

| | |
| --- | --- |
| Scare Factor: | |
| Fun Factor: | |
| Haunt Value: | |

Posted October 2017

1 out of 1 found this review helpful

Email Verified

Rude Staff

Want to get pushed, pulled, touched, cursed and screamed at your face. This is what we went through at this haunted place. Truly, an adventurous haunt but not at all scary. We drove for two hours to get this non-sense. The actors were pervert and had no skills and professionalism. The staffs were too rude in answering any questions.

| | |
| --- | --- |
| Scare Factor: | |
| Fun Factor: | |
| Haunt Value: | |

Posted October 2017

2 out of 2 found this review helpful

Gates of hell

I went thru gates of hell didn't know it was a full contact and did not like it and I found out after I bought the ticket that it was full contact it nhad no warning when buying the tickets this year for 2016 they used electricity and it hurt don't like it I will not go back unless the other 2 are no contact I would not go unless you find it fun to be electrocuted and to be grabbed forcefully

Scare Factor:
Fun Factor:
Haunt Value:
Length of Event:
< 10 minutes
Time Visited:
After 9PM
Would Recommend:
No
Suitable For Kids:
No

Posted October 2016

2 out of 5 found this review helpful

Good, but Gates of Hell was a slight letdown

As a Las Vegas resident, I like what Freakling Bros do. They put together a good grouping of haunts, each with a theme. Castle Vampyre was back again this year, Coven was new, and as I had not gone to Gates of Fear in 2014, I knew I would go in 2015. Coven was really good. I won't spoil things should they use it again next year, but it was well put together. Gates of Fear gets a lot of build-up. The idea of a haunt where you have to sign a waiver made for high expectations... after going through it wasn't at the level that the hype provided. Not bad, and enjoyable, but not what I'd consider a top-level haunt. A friend of mine who had gone the previous year said that it was significantly toned-down this year, which if true is a shame, as it's very well set up. Maybe the actors weren't feeling to enthusiastic that night...

| | |
| --- | --- |
| Scare Factor: | |
| Fun Factor: | |
| Haunt Value: | |

Posted November 2015

3 out of 4 found this review helpful

Amazing experience...a must do Vegas activity!

Flew out to Vegas from North Carolina for Halloween. These were by far the best 3 haunted houses we have been to. Each followed a theme/story line, great attention to detail, good lengths. Rec get there early or buy fast pass as gets crowded. The R rated "Gates of Hell" was more intense than the others but still a lot of fun. We were extremely impressed! A must see for Halloween people....

| | |
| --- | --- |
| Scare Factor: | |
| Fun Factor: | |
| Haunt Value: | |

Posted November 2015

1 out of 1 found this review helpful

Best Anniversary Ever!!

We went last year for our anniversary. It was the best thing we have ever done. We're making it a tradition to go every year. We were freaked out, scared, laughed, almost pissed our pants..... Best money we ever spent! Looking forward to going again this year!!

Scare Factor:
Fun Factor:
Haunt Value:
Length of Event:
> 1 hour
Time Visited:
After 9PM
Would Recommend:
Yes
Suitable For Kids:
Unsure

Posted August 2015

4 out of 5 found this review helpful

Best show ever

Made my girlfriend cry lol ;-)

| | |
| --- | --- |
| Scare Factor: | |
| Fun Factor: | |
| Haunt Value: | |

Posted August 2015

3 out of 7 found this review helpful

AMAZING!!!

We live in El Paso and I wanted to take a trip to Las Vegas. I decided to go in October because I absolutely love Halloween and figured Las Vegas would have some good Haunted Houses. We went to Fright Dome and….What a joke!!! That's all I will say on that! So…We went to Freakling Bros. There was a guy, an employee, standing at the front of the line telling people when to go into the attraction. I said "Is this haunted house worth it? We went to Fright Dome the other night and it was a joke." He said he used to work at Fright Dome and yes it was a joke. He told us these were good haunted houses and are worth it. Only way to find out was to see for ourselves. When we were in line waiting to buy our tickets the girl in front of us asked the guy walking around with a camera guy following him (I believe the owner) something about the haunted houses. He said they were all good. She asked which one was the best and he said, pointing, "That one's good. That one's good. Don't go in that one!" Me and my sister just looked at each other. So we went in the first one, Castle Vampyre. This one was good! Really good! As all haunted houses, they send a certain number of people in at a time. It was us and 3 other people. Adults. Not childish children who ruin it for others. (I'm 33 and my sister is 36.) I'm thankful we were sent in with them. They were awesome! I loved the way this maze was set up. You felt confused and didn't know what to do or where to go at times. Then we decided to go into Gates of Hell since the line was shorter than Circus of Horrors. My sister wasn't crazy about going in it because it was the one the guy said "Don't go in that one." This is the full contact haunted house. You have to sign a waiver before you enter. People were going in 4 at a time. But not us. We went in alone! Just us! The reason being because the people behind us were taking forever to read the waiver so the guy sent us in alone. I would always get upset and complain about going in haunted houses with other people because we're usually in the back and everyone up front gets scared and that ruins it for me. I go to haunted houses for the thrill and rush of getting scared. I'm always hoping we get to go in alone so we get all the effects and scare. BE CAREFUL WHAT YOU WISH FOR!!! OH MY GOD!!! That's all I can say! We didn't cry. We were too scared to cry! When we finally made it out my sister and I were in shock. My sister drank an entire bottle of water right after! This haunted house really shakes you up! Be careful what touches you! This haunted house was INTENSE! And when they say full contact they mean it! If you think it's just grabbing and pushing you or in your face….THINK AGAIN! (I'm very thankful my sister went instead of my mom. She would've either had a heart attack or killed me! ) I'm so glad neither one of us yelled the safe word! This was an amazing (and terrifying) experience!

Posted March 2014

13 out of 14 found this review helpful

best in town

I think they do everything they can legally get away with! Making you sign a waiver and all. Well put together. I'm going again!

Posted October 2013

6 out of 7 found this review helpful

This IS as GOOD as it gets!

Lets start at the beginning. A few years back (Mortuary's last year open) we decided to check out as many haunted houses as possible in Las Vegas. We started with 13th floor at Circus Circus....good for small children. Then we went to the Fright Dome... Okay, but I though WOW I am getting old. Got a few screams and startles out of me, the general area had people that startled me more than the attractions themselves. The we went to the Trilogy of Terror. OMG best night ever. Went on a Thursday and felt as if we were the haunts targeted victim. We ended up meeting the Father Son team that created Trilogy of Terror, because they had concerns for my boyfriend who walks with a cane going through the haunts. Nicest guys ever. We went to about 6 more haunts in Las Vegas and on Halloween weekend ended up back at Trilogy of Terror. The next year mortuary was taken down and Gates of Hell was open. Not to give anything away, but there was a part where the floor your standing on drops about an inch. I screamed so loud and (my new thing I do Laugh when I am nervous) started laughing uncontrollably that the terrorist/Cast Member asked if I was alright. We have already gone once with friends this year. When we got there this year, you are greeted by people who take your picture in front of a green screen, my first thought was just another way to make money. Well I have to say I was impressed with there pictures and the pricing. In fact we ended up purchasing 4 pictures, so everyone in our party could have one. if you can only go to ONE place this year for your haunting experience this should be the place. Great for little and big kids. We took a 12 year old with us this year and while the other adults went into the Gates of Hell, he didn't feel left out because we went and got him a picture. So frickin cool.....We don't even try the other haunts anymore. This IS as good as it gets.

Posted October 2013

7 out of 8 found this review helpful
All information on this page was submitted to Vegas Haunted Houses and was believed to be accurate at the time it was posted. Please report any inaccuracies
here
.