Las Vegas's Real Haunted Places: The Most Haunted Places in Sin City
Home » Blog » Paranormal Headlines, Halloween Headlines, Real Haunted Places
November 16, 2017 By Cait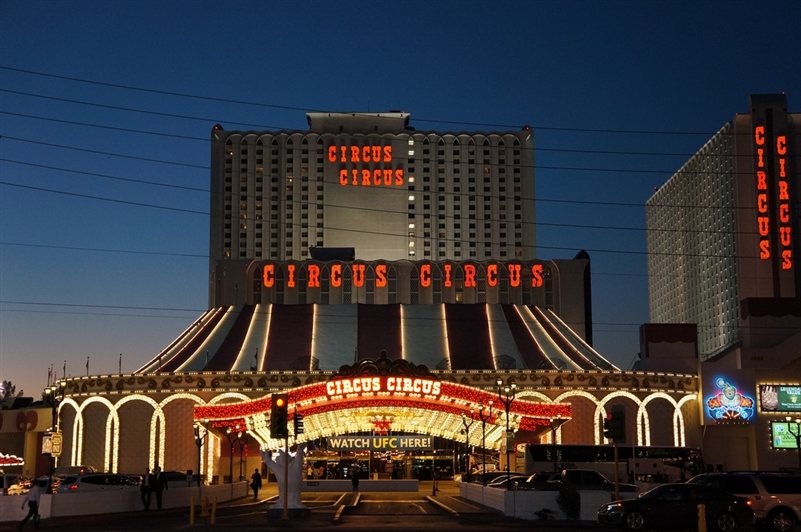 Room 123 of Circus Circus Hotel & Casino is believed to be haunted by a mother & son who died there as part of a murder suicide.
Photo by:
Jon Fingas, via Flickr. (CC BY-ND 2.0)
Sin City is a place like no other, and as a place filled with all sorts of fascinating and unique history, you can bet there are some seriously haunted places throughout the city of lights.
Whether you're a Las Vegas native or you're just passing through, if you love haunted history, you'll definitely want to check out these cool places while you're visiting the City of Sin - if you're feeling brave enough.
Bally's Hotel & Casino - For decades, the site of the Bally's Hotel & Casino has been known as one of the most haunted places in all of Las Vegas. Bally's was built on the site of the former MGM Grand Hotel, which suffered a tremendous fire in November of 1980, and all but burnt down to the ground. During the horrific fire, 85 people were killed - many of whom died the slow and awful death of smoke inhalation as they tried to escape the building, which was engulfed in flames. Over 650 people were also wounded or injured during this tragedy.

Over the years, guests and hotel employees have reported seeing and experiencing all sorts of paranormal activity, including employees seeing a group of ghosts roam the hallways, and ghosts hanging out in the employee restrooms.


The Luxor's Titanic Exhibit - While this might seem like any other museum exhibit, it's not. Employee's of the Luxor's Titanic museum swear that they've seen deceased passengers of the ill-fated boat roaming the grounds of the exhibit. One special thing about this Titanic exhibit is that is it also home to a part of the boat known as "the big piece" - a large piece of the outer hull of the actual Titanic itself.

According to staff and visitors, Titanic passengers can be seen hanging around "the big piece", as well as near some of the Titanic artifacts that are also part of the exhibit. There have also been reports of ghosts appearing in some of the exhibits rooms which were modeled after those of the Titanic itself, seemingly lost, thinking they're still on the boat. Eerie.


The Liberace Museum - When you think of Las Vegas performances, you undoubtedly think of Liberace, one of the most iconic Vegas performers of all time (I mean hey, the guy has his own museum - you can't really get more iconic than that, right?). The famed performer passed on in 1987, but employees, visitors, and museum construction workers have claimed to have seen the ghost of Liberace himself at the museum. When they were remodeling the museum, there were numerous reports of construction workers seeing a shadowy figure lurk around Liberace's dressing room, and to this day rumors of sightings throughout the museum persist.

The ghost of Liberace has also been seen across the street, at the now-closed Carluccio's Restaurant, which he used to frequent with friends after performances, and so it's unsurprising he'd come back and visit one of his favorite places after passing on.


Room 123 at Circus Circus - Circus Circus is one of Vegas's most iconic casino-hotels, having been open for almost half a century (it will be celebrating 50 years of fun in 2018). But although most of Circus Circus's guests have been there to enjoy the fun and entertainment of the Vegas Strip, there have of course been some strange guests over the past 50 years. One of the most well-known ghosts at the hotel is believed to occupy room 123, where legend has it that a woman killer her son, and then herself.

There have been reports that guests and staff have seen "Help Me" written on the mirrors in room 123, as well as other rooms throughout the hotel, and there have been reports of hearing a young boy scream "help me!", and even reports of seeing an apparition of a young boy wander the hallways. There have also been reports of a few different ghosts in the kitchen, who are reportedly unrelated to the ghost of the mother & son in room 123.


The Flamingo Hotel Casino - This Vegas icon is believed to be haunted than none other than infamous Vegas gangster Bugsy Segal, who helped build the Flamingo Hotel, and who was shot to death by his girlfriend in June of 1947.

There have been

hundreds

of reports from hotel employees and guests about seeing Bugsy in the hotel in a variety of places, including by the pool late at night, and in the presidential suite. Some have even claimed to have seen him in the hotel's wedding chapel, which is said to have been built on the site of Bugsy's old apartment.
Have You Visited Any of Vegas's Real Haunted Places?
Share Your Experiences in the Comments Below!