2023 Question and Answer With ABANDON
Home » Blog » Las Vegas Haunts: An In Depth Look
October 1, 2023 By Haunt News & Press Releases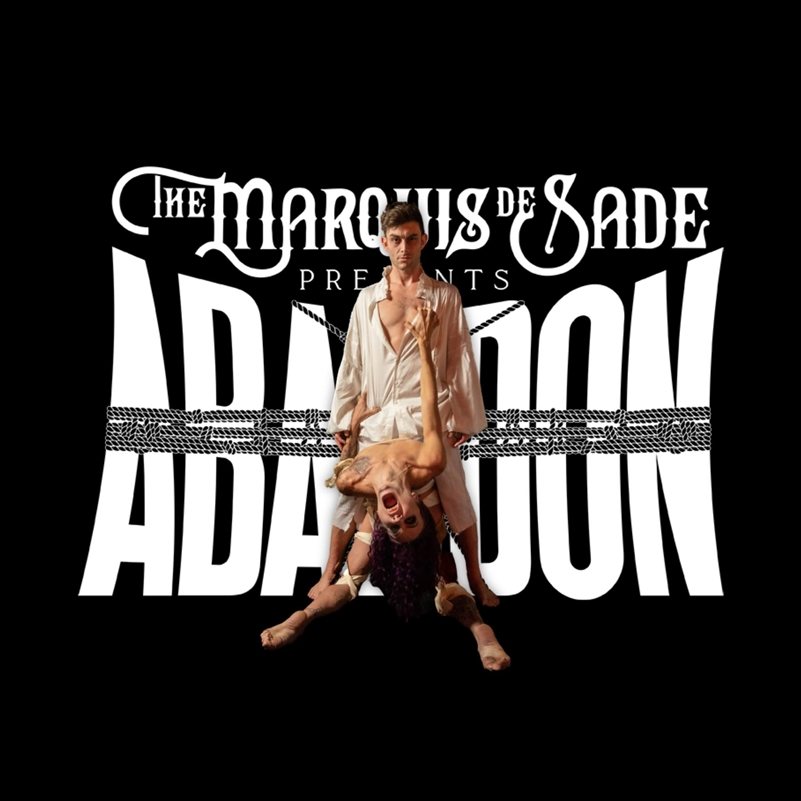 Poster
VegasHauntedHouses.com recently sat down with Abel Horwitz of ABANDON, to discuss what's new at ABANDON for the 2023 Halloween Season!
What's new at ABANDON for 2023? Do you have any new rides, attractions, or special features that Haunt Seekers should know about?
It's our first year! This is our debut show in Las Vegas. The director, Jana Wimer, has been making horror theater in Los Angeles for 20+ years and is now in Vegas.

Her style is crafting these horror vignettes: the lights go on and you see something scary, the lights go down. The lights go on, you see something scary, the lights go down. So we're not a play in the traditional sense, but we're not a haunted house either. We're somewhere in between.
What are you most excited about for the 2023 Halloween Season?
Introducing Las Vegas to our scary, kinky, sexy, bizzare haunted house.
What differentiates ABANDON from other local haunts in Las Vegas?
We're not a traditional haunt by any means. The audience starts in an immersive lobby before being lead into the theater to see the show. We're not a play -- we're wordless vignettes of horror. We just move and operate in a very unique way.
How long has ABANDON been in business? Can you tell us a bit more about ABANDON's history?
This is our first year. Here's the backstory:

Jana Wimer co-created a show in Los Angeles called URBAN DEATH at a theater called Zombie Joe's Underground. The show quickly developed a cult following. The show went to New York, Capetown and Edinburgh, drawing attention and rave reviews whereever it went.

Taking everything she learned from URBAN DEATH, Jana moved to Las Vegas in 2023 and developed ABANDON alongside Vegas Theatre Company with the intention of bringing her style of horror to Las Vegas. This is our first year, and we're hoping that Vegas audiences fall in love with us. We want to be a permanent year-round venue in Vegas!
What's your favorite experience since opening ABANDON?
The people. Hands down. The actors are so talented, Vegas Theatre Company has been great to work with, and the community has really responded positively to us. It's a great feeling.
How long is a typical haunt experience at ABANDON from start to finish?
:30 minute pre-show, :50 minute show. So about 1:30.
On a scale from 1 to 10, how scary would you say ABANDON is? Why?
Oh, absolutely terrifying. I mean, we don't touch you, but we certainly crawl into your brain.
Does ABANDON's property have any real haunted history? Do you have a spooky encounter you'd like to share?
We haven't been told anything specifically haunting about the theater, but we're of firm belief that any theater has an energy to it. I mean...people have stood in that room and exposed their souls. That HAS to have an effect on the building.
What inspired you to open up a haunted attraction? What's your favorite part of the business?
Being lifelong fans of the genre certainly helps. We're all theater kids, so to pair horror with theater was a natural fit. Our favorite part of the business is the fanbase, absolutely. Horror fans are the most passionate fans on earth...it's a genre that will always exist. Humans have always told stories about what they imagine is going on in the shadows. It's primal.

So creating something that people love so much means the world to us. We don't take that lightly.
How has new technology (i.e. animatronics, special props, etc) helped you to enhance ABANDON?
Our music is done by Joseph Bishara, who composed the music for the INSIDIOUS and THE CONJURING franchises. Our sound design is by Katie Halliday, who won an EMMY for her work on STRANGER THINGS Season 4. We've never had 5.1 surround sound capabilities before. They're taking full advantage of that.
Can ABANDON accommodate large groups? How many people can experience ABANDON together as a group?
Yup! We seat 80.
Does ABANDON offer any special deals, discounts, or coupons?
We're offering twenty five $25 tickets for each show our opening week to get the word out.
Anything else you'd like to let us know about ABANDON?
We're thrilled to bring our show to Las Vegas and we can't wait to show you what we've been cooking up.