5 Horror TV Series We Literally Cannot Stop Binge Watching
Home » Blog » Halloween's Hottest Trends, Halloween Headlines
November 28, 2017 By Cait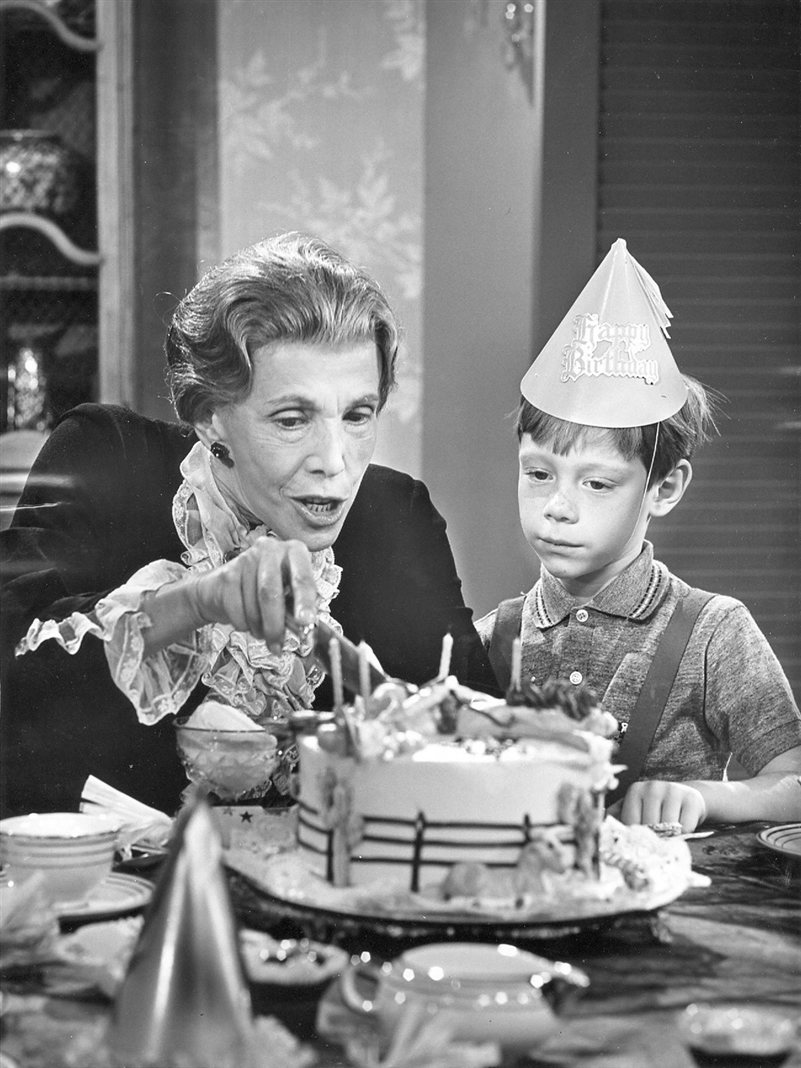 In Twilight Zone's "Long Distance Call", little Billy got a special phone call...from beyond the grave.
Photo by:
CBS Television, via WikiCommons.
Winter is coming, and you know what that means - it's time to start picking your shows and movies to binge-watch while the weather outside is frightful. Lucky for you, there are a ton of great TV Series with a serious focus on horror - many of which aired for quite a long time, so you can get your fill of scary good fun this Winter without ever having to brave the cold, or sit through boring programs that didn't quite make the cut.
Not sure where to start? No problem! Here are some of our favorite totally binge-worthy Horror TV Series to Watch this Winter:
The Twilight Zone (1959 - 1964)

- While not technically billed as a horror series, there's no arguing that

many

episodes of

"The Twilight Zone"

were absolutely terrifying. In fact, there are numerous episodes of the show that actually served as inspiration for horror flicks many years on. Remember Talky Tina, the scary-as-hell doll that came to life, and said creepy things to her owner's stepfather like "I don't like you", and warns the girl's mother "My name is Talky Tina, and you better be nice to me!" when found next to a dead body? Yeah, I thought so.

This show is an absolute classic, and it is one that any horror fan should really indulge in - it puts all sorts of references, nods, and overtures seen in modern day horror in perspective, and episodes (like the Talky Tina one mentioned above), really are very scary.

The original series ran 156 episodes, and the series has been revived numerous times - sometimes with the involvement of show host and creator Rod Serling, sometimes without. Regardless, the original

"Twilight Zone"

Series is iconic, and worth a watch.



Supernatural (2005 - Present)

- Supernatural is a horror series with an absolute cult-like following, so the chances of it going anywhere anytime soon is unlikely. In fact, it is so popular, that when show runners/regular were killed off, there was such backlash that production figured out complicated (but amusing) ways to bring them back to life, and continue on with the show.



"Supernatural"

follows the story of two brothers, Dean and Sam Winchester, who have been raised to be demon hunters, after their mother tragically dies in a supernatural incident. The two fight demons on a weekly basis, and the show is definitely a fun watch. There's definitely some serious horror elements here, but there's also some comedy as well. Remember the "uh-oh, we have to un-kill the showrunner" thing I mentioned above? It's become quite the running gag in the series, in true horror-comedy fashion.



The Walking Dead (2010 - Present)

- Have you noticed that over the past 8 years everyone is literally

obsessed

with zombies? Well, you can thank

"The Walking Dead"

for that. No, really - the show was basically the rebirth of the zombie, changing them from slow moving monsters that just say "Brainssssssssssss" a lot to fast-paced killing machines that have basically taken over the world.

In a classic "Us vs. Them" set up, you've got the non-infected folks trying to fend off the "biters", aka, the zombies, and things get a pit crazy. Unlike most shows, that won't kill off show runners unless it's an absolute necessity (or if they need a big twist, on rare occasion),

"The Walking Dead"

has gripped (and outraged) fans with its "anyone here can die at any time" mantra, with seriously important characters getting killed off left and right. Basically, the more emotionally invested you are in the character, the more likely it is they're going to bite the dust on

"The Walking Dead"

.

This show is an absolute horror-fest through and through - there's blood, gore, monsters, and more blood & gore.



Are You Afraid of the Dark? (1992 - 1996, 1999 - 2000)

- Are you in the mood for some serious nostalgia? Then watching reruns of

"Are You Afraid of the Dark?"

is the perfect way to dive into horror series marathoning. For the uninitiated,

"Are You Afraid of the Dark?"

was a wildly popular TV program on Nickelodeon in the 90s that was basically

"Tales From the Crypt"

but for kids. There were ghosts, evil clowns, curses, monsters, and all sorts of terrifying tales that gave many a millenial nightmares back in the day.

The show format was almost identical to

"Tales From the

Crypt" - the show was an anthology, and it started out with the kids around the fire pit with the lead in to the story, and ended in a similar fashion. Despite being hugely popular, the original series ended in 1996, but it was brought back very briefly, with an entirely new cast, in 1999, although that didn't go over as well as the original series.

Some of the episodes are still shockingly scary, and make you wonder "how is this a kids show?" and it's definitely fun to re-watch with childhood friends.



American Horror Story (2011 - Present)

- What horror series round up would be complete without

"American Horror Story"

? Since its debut in 2011,

"American Horror Story"

has pushed the envelope, and has completely engaged audiences by keeping them sitting on the edges of their seats with new themes each season. The show is currently on its seventh season, and it's already been greenlit for

at least

two more seasons, so horror fans can rest easy knowing that there's even more horror in store from the AHS cast.

The show's stars play fascinatingly different characters each season, and the "guest stars" that join for a season are always a highlight. No matter what you're afraid of, you can bet that

"American Horror Story"

has covered it, or that they will be - the show is a force to be reckoned with, and is still going strong after seven seasons.
What's Your Favorite Horror TV Series? Let Us Know in the Comments Below!