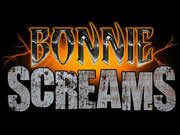 16395 Bonnie Springs Rd
Las Vegas, NV
Details
Average Review

Scare Factor

Scary

Appropriate For

13 over

Organization Type

-

Listing Categories

More Info

Outdoor Event(s), Indoor Event(s), Touching Not Allowed, Free Parking
We are located in Red Rock Canyon, where travelers in the 1800's trecked the Spanish Trail towards the west coast. This was no easy journey, many of these people died from the desert's unforgiving climate. Now, those lost along the way still roam the ranch! These spirits still have something to say and " reach out " when you least expect it. This journey is not for the faint of heart, as each victim will descend through three new, forbidding haunts that wind throughout the darkened town.
Quarantine
Screams of help and terror occupied the once peaceful town, as the hoard of zombies began to look for new victims. As the CDC and National Guard entered the town, they began to look for survivors. They set up blockades and checkpoints to ensure that the disease stayed contained in the town only. People rushed to the aid of the government, only to be told that they were infected or had to go into quarantine. Families were ripped apart; shrieks of terror came from the wife being separated from the family she had come to love for so many years, only to be accented by cries of the sister seeing her brother being taken away. No one was safe, but it was the only chance of survival anyone had. The zombies began making their way towards the only chance of survival; they nearly doubled the amount of humans. Could humanity fight this new disease?
No Hope Hospital
As Patient Zero walked into Hope Hospital, it was the beginning of the end; she complained of fever, nausea, and headache. Doctors did everything they could to try to diagnose this strange illness that was taking over her body. She bit the intern, and while in a state of panic, he called for help only to be infected. He was taken over by the virus before they could figure out what it was. The medical staff was then slowly taken down one by one; they called for a lock-down but it was overthrown by the growing hoard of zombie doctors, nurses, and patients. It was too late, the infection had been spread, and there was no sign of it stopping.
Infected Circus
On the day that the infection started, the circus was in town. It was full of laughter and applause, which only made the zombies move faster towards the giant red tent. Zombies started pouring in from everywhere, ripping the tent and flooding the exits and entrances; they trapped all those inside, performers and audience members alike. The people tried to run, but as the zombies began to outnumber the people, there was no chance for any survivors. The color red surrounded the area, from the destroyed red tent to the bright red clown noses splattered with blood. No surviors in sight, they began to head to the town.
ZOMBIE PAINTBALL BUS
Can you survive the ZOMBIE BUS RIDE at Bonnie Screams? Come experience the first and only paintball bus ride to take place at any Halloween attraction in Las Vegas!
Tickets for this one of a kind event are available for $20 here or at the ticket window during the event. Tickets include the bus ride and 100 paintballs; extra paintballs will be $5 for 50. If you are looking to experience both events, you can purchase both tickets for $40. Cash and credit will be accpeted, and tickets are non-refundable!
Email Haunt Owner
2016 Schedule
September
Su
M
Tu
W
Th
F
Sa
1
2
3
4
5
6
7
8
9
10
11
12
13
14
15
16
17
18
19
20
21
22
23
24
25
26
27
28
29
30
October
Su
M
Tu
W
Th
F
Sa
1
2
3
4
5
6
7
8
9
10
11
12
13
14
15
16
17
18
19
20
21
22
23
24
25
26
27
28
29
30
31
November
Su
M
Tu
W
Th
F
Sa
1
2
3
4
5
6
7
8
9
10
11
12
13
14
15
16
17
18
19
20
21
22
23
24
25
26
27
28
29
30
Hours of Operation: 6:30pm - midnight
Payments Accepted: Credit Cards
- event open dates
Event last updated 13 days ago. Please confirm dates on
haunt website
before you go.
All photos and videos within this listing are the property of Bonnie Screams
Could be so much better

The first reviewer was spot on as far as lacking in many areas of staffing..effective crowd management that causes huge delays.. inadequate numbers of cast members to complete the experience ... lack of lighting . ..sound and smoke effects to create ambiance... multiple safety issues creating the wrong type of scary environment. . Its a shame as the facilities have so much potential. ...

Posted 11/6/15

Don't waste your time or money

This is absolutely the worst halloween venue, EVER! Purchased tickets online. Once we got there, had to wait in the ticket line for an hour and a half. Does this make sense if you already have tickets? Proceeded down the haunted trail. Not a single person out there to try and scare you. Then waited in more lines at the haunted houses. They were not haunted at all. In fact we went through 2 houses and a total of 3 actors tried to scare us. Again walked the trail back and had no one scare us. In summary, $25 per person to wait for hours in lines, walk a trail twice and go through 2 of the 3 houses for a total of 3 actors to approach us. This was a complete rip off and they don't deserve to call themselves a business or a haunted house. Where did our money go? Obviously not to any actors. We will not be going back and will not recommend this place to anyone looking for something to do around halloween.

Posted 11/2/15

1 out of 1 found this review helpful

Creepier than Fright Dome

Being a Vegas local, I have visited Fright Dome and a few other attractions before. The Bonnie Screams haunted houses gave me the legitimate creeps. They were dead quiet at times, dark, and technically you're in an old run-down shack in the middle of nowhere. However, I went on Halloween night, and (as I was told) half of the staff had quit by that time, so they were lacking actors. However, the actors they did have interacted with you A LOT. Some would even follow or chase you through the creepy mazes. I think they could have had some better planning and a few more lights outside the haunted houses, but other than that this is a great place with huge potential. I recommend going early in the season when there are more actors and less lines. On non-busy nights, they only let people in the houses 1-4 at a time. It's much creepier with less people.

Posted 11/1/15

1 out of 1 found this review helpful

Scary

Great Haunted House. The place was so scary. It was so dark and freaky. My favorite was the Backwoods Massacre. Only $25 for all that's there is a great deal

Posted 10/15/14

6 out of 9 found this review helpful

Good

It had it's scary parts but it seemed like it could've been better the scenery was super creepy but the actors all kind of looked the same. location has a lot of potential but they just need to do a little better planning with the scaring.

Posted 10/11/14

0 out of 2 found this review helpful

Great haunted house

I don't know what the last guy is talking about. Bonnie screams was so awesome!!!!! Great location, great creepy haunted houses, and for $25 you get so much entertainment. I will go back for sure!!!!

Posted 10/21/13

2 out of 5 found this review helpful

absolutely terrible!

Went last year with my girl and two friends and we were severely disappointed. They shouldn't even be able to call this a haunted house...it's more like something a bunch of high school kids would throw together to get your money.Its sad too because it is a great location being way out in the middle of no where.There is a lot of space and it's away from the city lights but this was an embarrassment. I'm not even going to start to list everything that was wrong because it was all bad. The only thing that was a tad bit scary was waiting for the train to come get you because you don't know what to expect but once you get there the fright quickly wears off. I can not speak on this years event but last year was so bad I would never again waist my time or money on this place.

Posted 10/21/13

2 out of 6 found this review helpful

place was lam

sin city scare fair totally rocked I was so scarede it was sick bonnie scream wasn't all that it was made out to be , but dam scate fair wow holly sh#t you wont be disapointed

Posted 10/20/13

0 out of 2 found this review helpful

TOO COSTLY FOR THE ENTERTAINMENT

PLACE WAS COOL VERY DARK AND SCARY HAUNTED HOUSES WERE WEAK VERY FEW ACTORS AND WAY TOO LONG A LINES FOR HOW SHORT THE MAZES WERE WONT GO BACK

Posted 10/8/13

0 out of 3 found this review helpful

we went last year

then my wife had an affair on me, it was nice but i never want to go back , cuz my wife was thinking of him the whole time,some guy from work told her about the place,it was scary!!! stuff was awsome!!! if you dont have a cheating wife youll be fine!

Posted 10/22/12

8 out of 15 found this review helpful

great magic show

Good haunt best part was the magic show by Steve Best and Cassandra They do big illusions birds and stuff very impressive.

Posted 10/24/11

1 out of 2 found this review helpful
All information on this page was submitted to Vegas Haunted Houses and was believed to be accurate at the time it was posted. Please report any inaccuracies
here
.